Why use an online quiz maker for marketing?
We know quizzes are big news these days – read on for our impartial quiz maker reviews, from Qzzr to TryInteract, Riddle to Outgrow and Buzzfeed.
Quizzes and other interactive content are some of the most effective marketing tools around. They're unmatched at catching your site's visitors' attention – and turning passive browsers into active participants. And that's just engagement.
Quizzes are flat-out awesome at lead generation, with opt-in rates up to 40% (that's 20X better than the typical 'sign up for my newsletter' pop ups you see all over the web).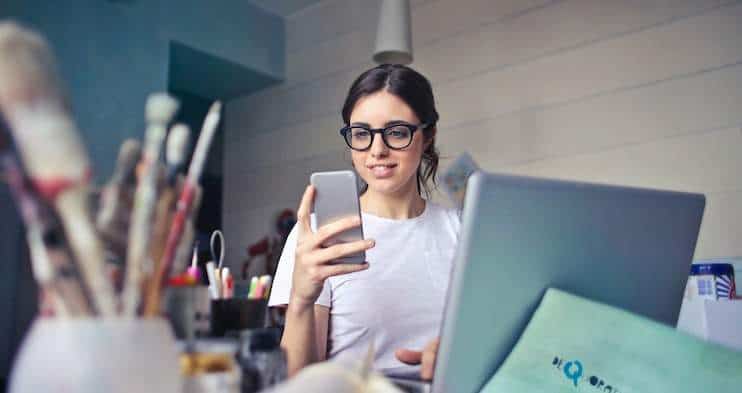 Why do marketers turn to a quiz maker?
They fall into two particular marketing strategies.
Audience engagement: There's something irresistible about a quiz, personality test, or opinion poll. People love testing themselves or giving their opinion – adding interactive content will boost audience interactions with your site.
Lead generation: Once you have your audience's attention, quizzes help you collect leads and convert them to paying customers. Collect each quiz taker's name, email, and other information – then send to your email marketing software for automatic (and personalized) follow ups.
Which quiz maker should you choose?
Additional privacy and legal concerns when choosing a quiz maker
The EU has canceled the Privacy Shield Agreement with the U.S in summer 2020. This is scary stuff – it's now basically illegal to send any personal information to U.S. servers or American companies. And you can face BIG fines – even if you're not based in the European Union.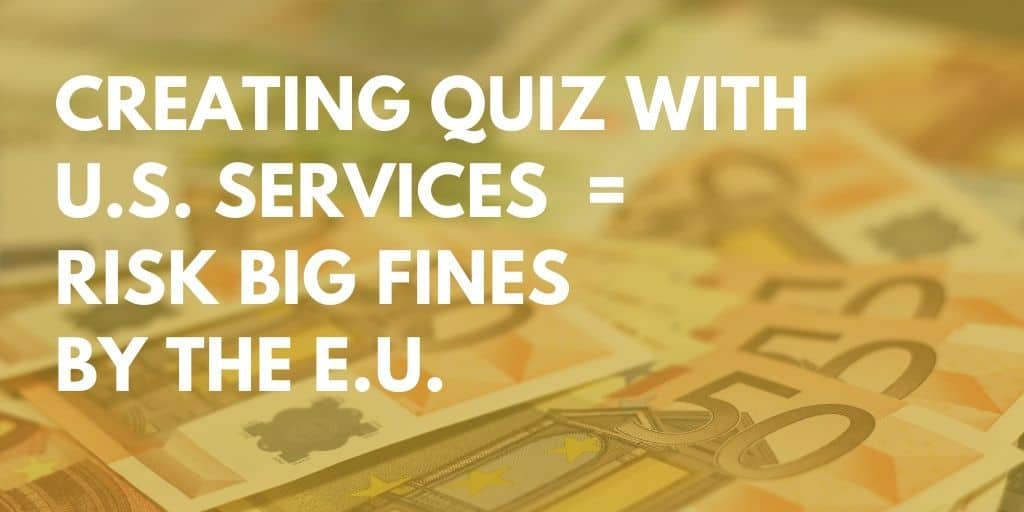 (Want to create a quiz for marketing? That means you'll be collecting personal information – any quiz maker using Amazon or Google for hosting should not be used anymore (even tracking a user's IP address counts).
We went back and re-checked all our quiz maker reviews.
The only quiz maker we found, whose quiz embeds are not using U.S. hosting services is Riddle.com (Germany).
Even the Austrian-based Involve.me is using a U.S. hosting service.
To keep your company out of trouble, inspect the embed code the quiz maker is giving you to make sure it's:
Hosted on a European server (AWS or Google Cloud's EU network doesn't comply under the new privacy regulations)
Free of any kind of trackers or cookies from the quiz maker.
Also, when choosing a quiz maker, check for these things:
Most quiz makers use Google Fonts. Are they self-hosting these for the quiz embeds? If not, don't use them – Google will collect personal data.
Do they offer consent boxes before loading external content like Youtube or Twitter? This is a must have due to all the tracking these services' use – so far only riddle.com offers this features.
Are their servers solely EU-based and not on the Amazon or Google Cloud? It's scary – even using Amazon's or Google's EU servers is not compliant at the moment (August 2020).
What to consider when choosing a quiz maker?
Right, now let's get to the fun stuff.
There's no one size fits all' quiz maker – they each have their own strengths and weaknesses.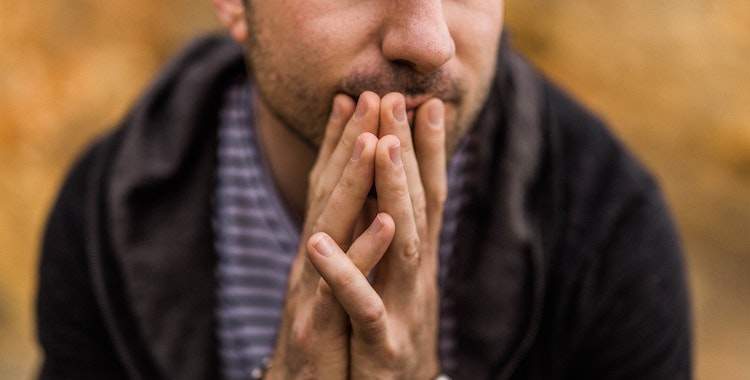 Here are some good initial questions to ask:
What are your current marketing goals?
Are you looking for a simple quiz? Or will you need a broader range of content types like polls, surveys, and personality tests?
How will you send quiz data to your marketing software and is the data treated according to the privacy regulations of my country (GDPR?)
Once you have a good short list of quiz maker candidates, decide:
How much customization do you need? Will a quiz maker's standard template work – or will you want to tweak the colors, borders, and fonts to match your site?
Is social sharing an important goal? What social networks are your audience on (Facebook, LinkedIn, Twitter, etc.)?
Is each quiz maker GDPR-compliant? You'll be collecting personal information from each lead, so you could be liable for expensive fines. Find out if they comply with new privacy regulations like the EU's GDPR, California's CCPA, and Canada's PIPEDA.
Quiz Maker Comparision – Overwiew
| Core Feature | Who does it best | Runner up |
| --- | --- | --- |
| Fully GDPR compliant | Riddle.com – this is a fully GDPR-compliant quiz maker, with its servers in Europe and you can sign a data protection agreement (DPA) with them. Many tools to make sure your quizzes are compliant, even when using your own trackers like Facebook pixels or Google Tag Manager. | Another European quiz maker, Involve.me supports a solid GDPR implementation and a data processing agreement as well. But unfortunately, their use of Amazon's cloud hosting plus their implementation of the Facebook Pixel makes it impossible to use them and stay GDPR-compliant. |
| Wide choice of quiz and content types | Riddle.com – with 15 types of interactive content, Riddle has the widest range of quiz/poll/survey types of all the quiz makers we've reviewed. | Outgrow.co – focused primarily on highly customizable calculators (e.g. 'What mortgage can you afford?'), Outgrow has 8 different quiz types – including a giveaway format. |
| Connectivity to popular CRM/marketing software | TryInteract – featuring 27 native integrations to Pardot, ConvertKit, and dozens more. Also includes Zapier.com to connect to 1,400 other tools. TryInteract just lacks a webhook option – so you cannot build your own integrations. | Involve.me features 12 integrations – including Drip, Campaign Monitor, and Mailjet. They also have a webhook and several other nice options, including email notification for every time you get a lead. |
Picking a quiz maker for audience engagement
Brands and publishers like the NFL, the BBC and the New York Times know that quizzes and interactive content are powerful ways to connect with an audience.
We're inherently curious creatures – and quizzes, polls, and personality tests test our knowledge and help us discover new things about ourselves.
Each quiz maker gives you a different mix of tools for the job, varying by:
Number of different formats: Do they offer just a standard quiz and poll, or do they offer wider range of content types? If you plan on creating more than a quiz or two, variety will be important – to keep things fresh and varied for your audience.
Styles and layouts: Your site is your brand's face to the world. Check if you can customize your quiz to match your site – for best effect, it should feel like an organic part of your site, not like a 3rd-party widget.
Customization options: This is a big one. Every audience is different – make sure that you have full control over appearance (buttons/borders/fonts) but also quiz mechanics. For example, do you want to show correct answers immediately or until the end of the quiz? Add a timer or not? The list goes on!
Adding pictures, videos, and GIFs: Pictures pack a punch online. See if each quiz maker provides with tools like Unsplash, Giphy, and YouTube – they make it easy to find/add content for your quiz.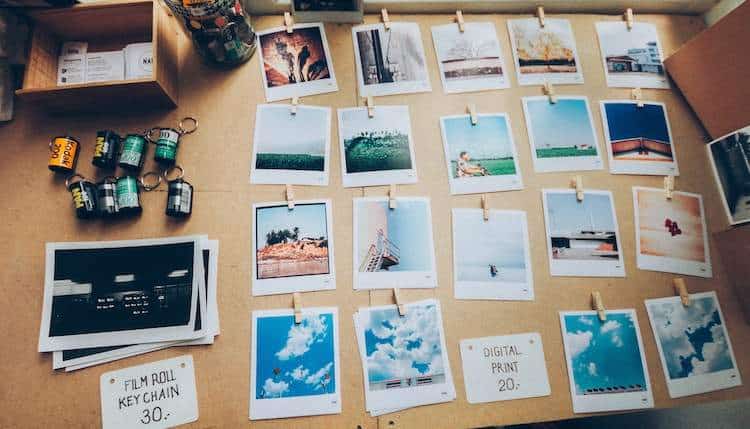 Choosing a quiz maker for lead generation:
Beyond catching your audience's attention, quizzes are also phenomenally powerful lead generation tools. Like we mentioned at the top, you should see opt-in rates of 35-40% – that's 20X more effective than typical online options.
Here are some things to look for when evaluating any quiz maker:
Data connectivity: This is the most critical. Can you automatically connect your quiz with your marketing software like Hubspot, MailChimp, and ActiveCampaign? You should be able to send all the lead's personal information AND their quiz results and answers – so you can segment leads and send out personalized follow up messages based on their individual responses.
Privacy: Is the data collected treated in accordance with the privacy regulations for my country (GDPR?). If not, you may get fined heavily for collecting personal information in an unsafe way.
Lead form – field types: Every quiz maker should offer the basics, such as name, email, and phone number. But ask if you can add a wider range of field types – including dropdowns, checkboxes, and date/time pickers (for age or appointments).
Send quiz results to each lead: We find that many marketers want to send quiz results to each quiz taker. This is a powerful mechanic to encourage more lead generation opt-ins – people want to find out their outcomes. See if you can craft personalized emails using variables – like 'Hi <%first name> – you scored <%user-result>. We noticed you answered question 1: <%user-answer1> – that's really interesting because…'
There are a growing number of quiz marketing tools out there. We'll be constantly adding to this list – following these core criteria:
Built for professional users: We will not review scammy quiz makers, whose sole purpose is to scrape Facebook user data (yes, these unfortunately exist).
Embeddable and white labelled: You'll need to be able to embed any quiz on your own site. We won't cover more consumer-oriented tools that only let you create content on their site.
Fully GDPR-compliant
Riddle.com – this is a fully GDPR-compliant quiz maker, with its servers in Europe and you can sign a data protection agreement (DPA) with them. Many tools to make sure your quizzes are compliant, even when using your own trackers like Facebook pixels or Google Tag Manager.
Another European quiz maker, Involve.me supports a solid GDPR implementation and a data processing agreement as well. However, their implementation of the Facebook Pixel makes it impossible to use them and stay GDPR compliant. Also, they are hosting the embeds on a US cloud service, which after the cancellation of the Privacy Shield agreement also makes it impossible to use them and stay GDPR-fdcompliant.
Detailed quiz maker reviews
Check out our snapshot and overall rating for each quiz maker we reviewed – plus links to our more in-depth analysis. We're big quiz geeks – so these reviews dive deep into the nuts and bolts of every aspect of the software.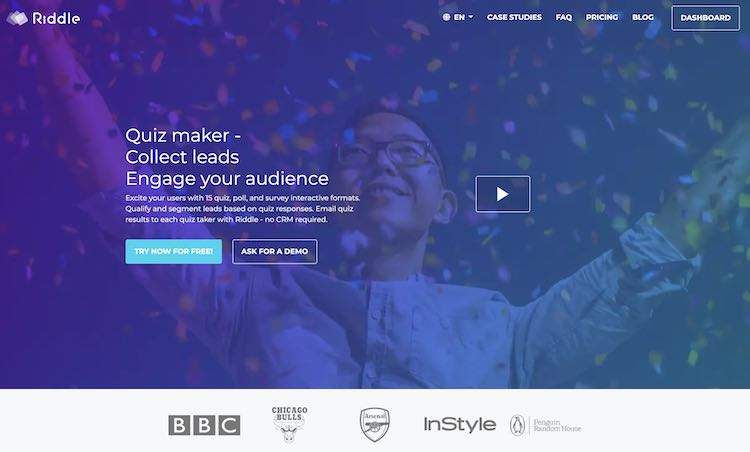 Summary:
Riddle's quiz maker offers a wide range of different quiz, poll, and personality test options – and is used by global brands like the BBC and Red Bull to small start ups and businesses alike.
We're big fans of their clean, intuitive interface – which means there's very little learning curve involved, and you can quickly be up and running creating your own quizzes.
Pros:
15 quiz and content formats (the broadest selection by any quiz maker) – including unique formats like 'Order it', 'Line 'em up', and their 'Multi-poll'
'Unlimited' pricing model – Riddle charges by feature only. All plans include unlimited leads, quizzes, and engagements.
Built-in lead generation in all formats – with native integrations to ActiveCampaign, AWeber, MailChimp plus Zapier, and a flexible webhook.
Fully GDPR-compliant – Riddle features many opt-in and privacy options for quiz creators.
Free 14 day free trial – but no free version
Quiz Maker Review's rating for Riddle:
Range of quiz formats: ★★★★★
Customization options: ★★★★★
Lead generation: ★★★★☆
Data privacy: ★★★★★
Pricing: ★★★★☆
Overall: ★★★★★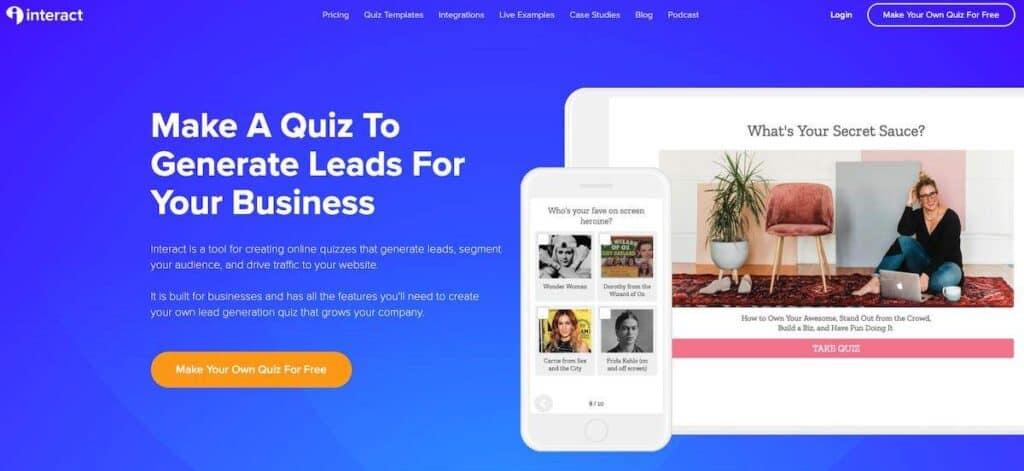 TryInteract has the most connections to external CRM tools of all the quiz makers we reviewed. Unfortunately, our analysis reveals that they are not GDPR-compliant, which makes it a bit risky to use them for data and lead collection.
They offer a solid set of creation tools including the standard quiz and a basic poll – and are unique among the quiz makers we've reviewed by offering a completely free version. We recommend TryInteract for anyone looking for a low-cost, low-frills quiz maker – with limited legal exposure due to their data privacy limitations.
Free version – but with no lead generation
Excellent connectivity – with 27 native integrations to popular CRM tools
Wide range of pre-built templates – 800 (and counting!)
Very solid quiz builder for intermediate quiz marketers. We especially liked how they let you change quiz types after creation – without retyping all the content.
Not compliant with GDPR (and potentially other global data privacy regulations) – this contradicts their website, which states they are.
Lead generation and statistics collection are limited in their two lower-priced plans.
Polling tool is very basic, and limited customization options in their quiz and personality test formats.
Quiz Maker Review's rating for TryInteract:
Range of quiz formats: ★★☆☆☆
Customization options: ★★★☆☆
Lead generation: ★★★★☆
Data privacy: ★★☆☆☆
Pricing: ★★★★☆
Overall: ★★★☆☆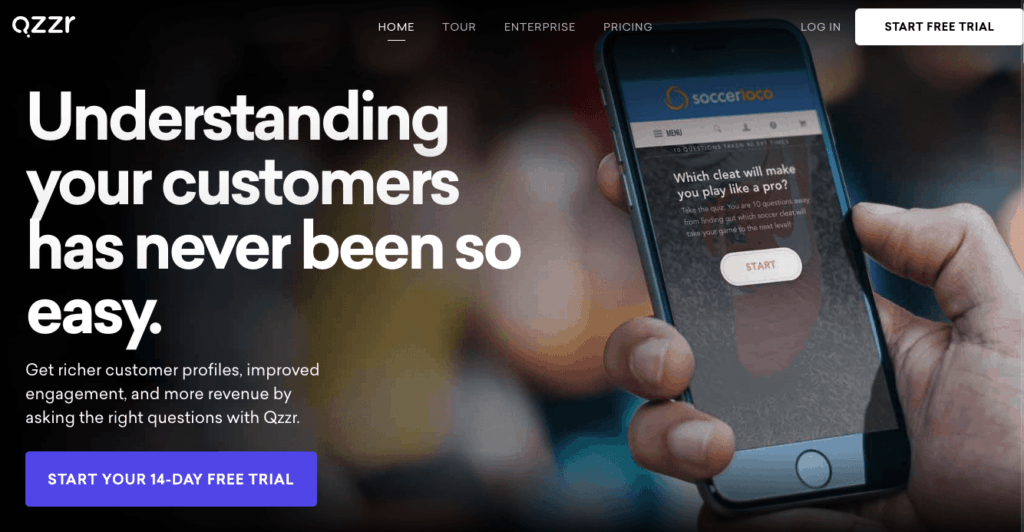 Summary:
Qzzr was one of the first quiz marketing tools for marketers – with a strong focus on lead generation. This comes with a trade-off, however – they offer a more limited range of content types than many of the other quiz makers we reviewed.
Qzzr's focus is on lead generation and business intelligence for large enterprise customers. You can see this reflected in their pricing:
Qzzr's Basic plan starts at $24.99/month for a very limited set of features and seems to be more or less a paid, extended trial.
Their high-end plan starts at $10,000 per month – something only very large companies will want to shell out for a quiz tool. It does come with a very cool feature though – content creation by Qzzr writers. That's pretty pricey, though – we bet you hire a full-time content editor and use any other quiz builder for less than $10K a month.
One note: Qzzr requires you to provide your credit card details for their free trial. We do not test tools that grab our payment data for a trial – so this review comes from a time when Qzzr had not adopted this approach.
Pros:
Focus on lead generation – Qzzr offers excellent lead generation options for marketers.
High-end quiz styles and templates (with limited customization) – we like their default templates and styling, but there are also limited customization choices.
Custom quiz creation service – Qzzr will help write your quizzes, if you are on their enterprise plan ($10,000+ per month). Super expensive, but could be a good fit for large corporations.
Cons:
Credit card required for free trial – a pet peeve, it seems insane to make it hard for people to try your software.
Limited content formats – Qzzr offers just quiz, list, and poll modules.
Unclear (and expensive) pricing – Basic starts at $24.99/mo, but their other plans just say 'ask us'. That generally means very, very expensive.
Quizzes deleted on cancellation – If you cancel, your quizzes and other content is deleted. Qzzr tries to lock you in for life – we hate that.
Quiz Maker Review's rating for Qzzr:
Range of quiz formats: ★☆☆☆☆
Customization options: ★★☆☆☆
Lead generation: ★★★☆☆
Data privacy: ★☆☆☆☆
Pricing: ★☆☆☆☆
Overall: ★★☆☆☆
Bucket.io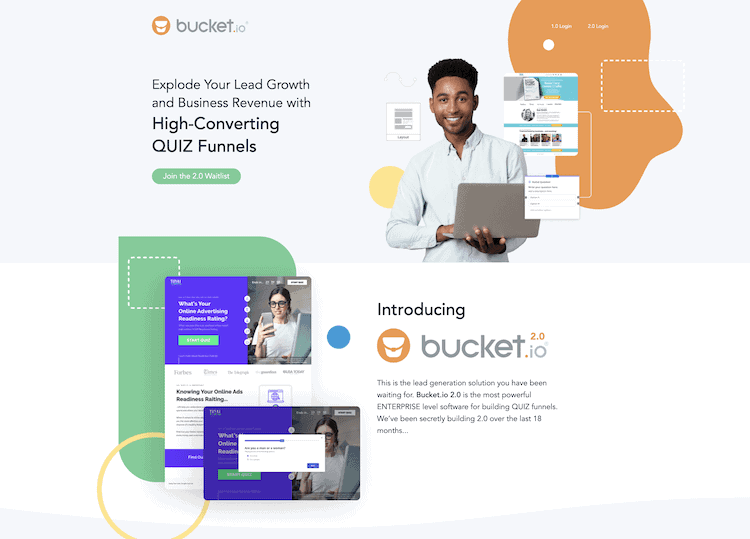 Summary:
Bucket.io is a different sort of beast than your typical quiz maker. Founded by the well-known quiz marketer Ryan Levesque, Bucket.io is 100%-centered around 'quiz funnels'. Their entire focus is on building quiz lead generation funnels.
Their idea is to send site visitors through an entire series of quizzes and surveys – collecting data along the way. The net result? You will be able to qualify leads to a very fine level of detail and provide perfectly tailored offers.
Based on this focus, Bucket.io is not suited for audience engagement – but is designed for experienced professional lead generation marketers.
[July, 2020 – important note: Bucket.io is currently upgrading to their v2.0. Their home page does not feature any pricing or sign up options – even for their existing v1.0, so this review is based on our analysis from 2018.]
Pros:
Powerful lead generation funnels – with many useful logical operators (IF, OR, etc.) to create a flexible funnel around user responses
Deep lead generation experience – the Bucket.io team has been in the lead industry for a long time, bringing their intimate knowledge about lead generation to the market for their users.
Cons:
No free trial – you need to pay $1 for a trial and thus have to give up your payment data.
Very expensive – pricing not listed, but their v2 pricing seems to start at $200 a month (with a $2,000 set up fee).
Monthly limits on all plans – None of their plans offer unlimited leads or quiz views. Even their costly enterprise plan is capped at 150,000 unique participants a month – which is not a lot if a quiz agoes viral.
Very limited quiz types – with no focus on audience engagement or social virality. Bucket.io offers essentially just surveys and quizzes.
Quiz Maker Review's rating for Bucket.io:
Range of quiz formats: ★★☆☆☆
Customization options: ★★☆☆☆
Lead generation: ★★★★★
Data privacy: ★☆☆☆☆
Pricing: ★★☆☆☆
Overall: ★★☆☆☆
Typeform
Summary:
Typeform has been around a long-time for a quiz maker – since 2012. They've made a name for themselves as an easy to use, and beautifully designed lead generation and survey tool for small businesses.
The plus side? They take an innovative approach towards collecting leads – using their 'question blocks' to subtly gather lead data throughout the quiz, instead of just one form at the end.
Pros:
Flexible lead generation options – some of the best we've reviewed, with logic jumps and using variables like <first name> to personalize each quiz.
Reasonable pricing – Typeform has 3 plans that range from $35 to $70 USD, and include a very limited free plan. However, all plans feature caps on usage and leads per month – which we aren't fans of.
Beautiful designs – we love Typeform's content formats. They look sharp, feel great to take, and look great online.
Cons:
Privacy (!) – this is a big one. Typeform is one of the worst quiz makers that we've reviewed in terms of data privacy and GDPR-compliance.
Very few quiz formats – Typeform is a form company; quizzes, polls, and personality tests feel like an afterthought in terms of features and capabilities.
Limited customization – you should probably steer clear of Typeform if you're an agency, large company, or publisher. The lack of advanced customization options like CSS editing, uploading your fonts, and the like prevent you from fully matching your site's look and feel.
Quiz Maker Review's rating for Typeform:
Range of quiz formats: ★★☆☆☆
Customization options: ★★★★☆
Lead generation: ★★★★★
Data privacy: ★☆☆☆☆
Pricing: ★★★★☆
Overall: ★★★☆☆
Summary:
Buzzfeed was one of the very first online quiz makers – and for a while, became synonymous with any sort of online quiz, personality test, or listicle. Buzzfeed is an entirely B2C quiz maker. It's great for teenagers to whip up fun quizzes, but Buzzfeed lacks the white labelling, lead generation, and other features required by marketers.
They've pivoted a few times in their history, and have gone 'all in' towards becoming a media company – with high end news reporting and other content.
This means Buzzfeed has essentially stopped developing or adding features to their quiz maker – their product hasn't really changed in the past four years.
Pros:
Completely free to use – Buzzfeed wins this one hands down. Anyone can create unlimited content – no credit card required.
Super intuitive and easy to use – one of the reasons they grew so quickly? It was so easy to create quizzes – anyone from 13 year old Sammy to his 80 year old granny could quickly be up and running.
Awesome 'checklist' quiz – unique to Buzzfeed, we love this quiz format. You ask a question ("How many countries have you visited?") – and people tick off how many they've done, then get a result ("You're a world traveler!"). Simple, easy, and oh-so-effective.
Cons:
No lead generation – Buzzfeed isn't in the quiz marketing business, so they don't let you add forms for lead generation. And of course, you can't send any quiz data to your marketing software (like MailChimp).
Can't embed quizzes on your site – unlike every other quiz maker we've reviewed, you can't move your Buzzfeed quiz to your site. This is a HUGE limitation.
No white labelling – you can't your own branding or the like; all your quizzes will be a 100% Buzzfeed production.
Minimum customization – part of their intuitive quiz creator means they limit your quiz customization choices. It's pretty much 'their way or the highway'.
No videos or advanced image options – Buzzfeed also ranks at the bottom here. You can only manually upload images to your quizzes. No image, GIF, or video search tools – like Giphy, YouTube, Pexels, and the like.
Quiz Maker Review's rating for Buzzfeed:
Range of quiz formats: ★★★☆☆☆
Customization options: ★☆☆☆☆
Lead generation: ☆☆☆☆☆ (No lead generation options)
Data privacy: ★☆☆☆☆
Pricing: N/A (Free)
Overall: ★☆☆☆☆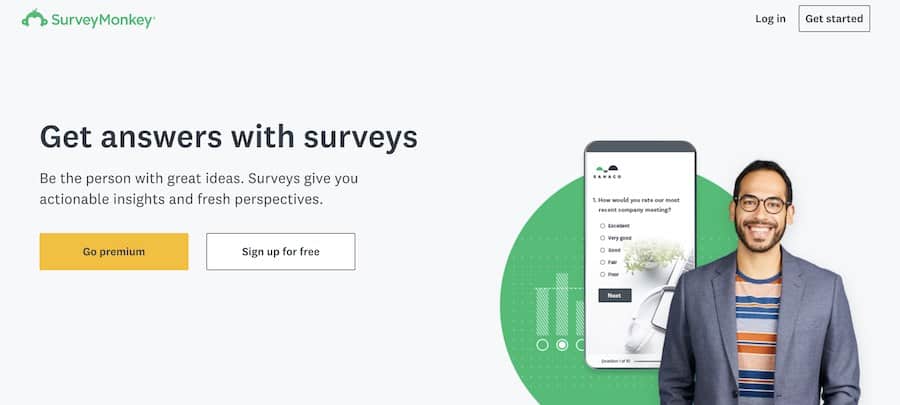 Summary:
Started a relative eternity ago (in internet time), Survey Monkey has been one of the go to tools for surveys since 1999. We generally stay laser-focused on quiz maker companies – but as Survey Monkey recently added quizzes and polls, we wanted to see how they stacked up.
Pros:
Industry-leader for surveys – Survey Monkey is good, really good for any sort of serious survey and data crunching.
Huge range of question types (survey only) – they were the best provider we reviewed in terms of collecting information. The range of survey question types and scales was impressive.
Fantastic data integration options – after being around for 20+ years, we're not surprised they also feature some of the best integration options around.
Good question logic – you can easily set up sophisticated branching logic and show different questions based on each user's responses.
Cons:
Mediocre quiz and polls – considering how feature-rich their surveys are, we were seriously disappointed in Survey Monkey's quiz and poll modules. They basically just added a scoring element to their survey – it lacks the range of quiz formats, scoring and question choices we've come to expect from a quiz maker.
Limited image, video, and rich media – Survey Monkey has been around for a while, and it shows. While their survey tool capabilities are top notch, their look and feel are very dated. Part of this due to their reliance on static images and text – today's quiz audience respond best to a variety of media (including GIFs and video).
Significant (!) privacy issues – Survey Monkey adds eight cookies to every survey taker, with no chance to opt out. Big-time violation of the EU's GDPR, which means you'd be at risk if you use for your site. They also store personal information on US-based cloud software – another violation now that the EU-US Privacy Shield is invalid.
Quiz Maker Review's rating for Survey Monkey:
Range of quiz formats: ★☆☆☆☆
Customization options: ★★☆☆☆
Lead generation: ★★★★☆
Data privacy: ★★☆☆☆
Pricing: ★★★☆☆
Overall: ★★☆☆☆
Summary:
Quiz-maker has been around for a long, long time – they started providing online quiz maker software way back in 2003. Their longevity shows – they have a wide range of nifty unique features, but their site looks old and tired.
It doesn't seem like their team is actively supporting or developing Quiz-Maker.com – so we can't recommend them for marketers or businesses. Quiz-Maker is best suited for casual users or in the classroom.
Pros:
Free plan – we really liked how Quiz-Maker offers a completely free plan. No need to create an account either – just click and start creating.
Long feature list – Quiz-Maker has a very long list of functionality, including QR code support, quiz timers, leaderboards, and more.
Course module – this was a differentiator. Quiz-Maker is the only tool we've seen that lets you create quiz-based courses – including restricting access only to students you invite.
Cons:
Outdated quiz designs – this is a big one. Quizzes are powerful marketing tools – but need to reflect your site well. Quiz-Maker's quiz designs are pretty out of date – they look and feel like they are from 2010, not 2021.
Lack of customization and white labelling – today's quiz marketers demand a high level of flexibility. Every quiz and campaign is different – and Quiz-Maker just does the basics, without custom fonts, CSS editing, or a wide range of built-in options.
Unintuitive interface – this follows on nicely from our point about quiz design, but while rich in features, Quiz-Maker's quiz builder is clunky, confusing, and hard to use. We highly, highly recommend they invest in their software again – with a more user-friendly and modern design.
QMR's rating for Quiz-Maker.com:
Range of quiz formats: ★★★☆☆☆
Customization options: ★☆☆☆☆
Lead generation: ★☆☆☆☆
Data privacy: ★★★☆☆
Pricing: ★★★☆☆
Overall: ★★☆☆☆