There's a better way to ask

You dont want to make a boring form. And your audience wont answer one. Create a typeform instead – and make everyone happy.
Free trial for 14 days for its paid plans, and the option to use Typeform for free but with many limiting factors.
Basic: €21 per month
Plus: €46 per month
Business: €75 per month
Enterprise: You're asked to contact sales to learn more. They promise advanced features and support.
Pros and Cons:
+ Typeform for-free-option.
– Limited amount of leads and responses.
– Need to fill out a questionnaire before getting started.
2. Ease of use
Before getting started I had to answer a quiz and as a business account also name my business. Once I was past that it gave me the option to choose from a template or to create my own.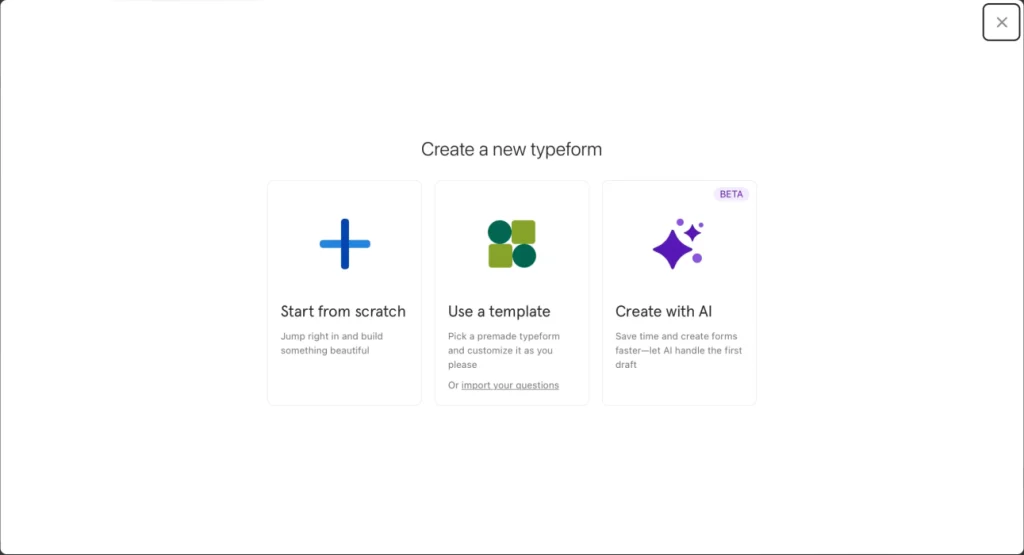 Pros and Cons:
+ Very well-executed homepage.
+ Easy to get started.
+ Several templates and designs to choose from.
+ Buzzing button with usage tips makes getting to know the tools easier.
+ Simple quizzes are easy to build.
+ Intuitive interface.
+ Starting from scratch it asks you what kind of quiz you'd like to create in order to better understand how to help.
+ Automatically saves my work.
– Entry quiz about myself and why I am using Typeform.
3. Customization options
Generally, they offer a variety of customization options but do have some limitations.
Pros and Cons:
+ Overall fonts and themes are easy to adapt and change.
+ You can add icons, upload pictures or select from the image library Unsplash, videos from Pexels, YouTube, or Vimeo.
+ Branching logic for forms or surveys.
+ Enterprise allows more customization options and help with CSS.
+ Custom Thank you Screen.
– Difficult to fully match your brand identity.
– Limitations with the number of questions that can be asked.
– Many customization options only on the higher priced plan.
4. Privacy
I'd say privacy and data protection aren't the main focus. They do take it seriously, but still, since their servers run in the USA (Virginia) this is where your data is saved. They do have privacy and security measures in place but their policy isn't quite transparent. But this is what they say to the case.
Pros and Cons:
+ Lots of information on how they process data.
– Data is saved on their servers in the US.
– Only their enterprise plan is HIPAA and GDPR-compliant.
– Limited control over third-party services.
5. Support
On all plans, they offer basic support through their Help Center, which is well done but as a basic user, I might also want to quickly use the live chat. I understand it might overflood the capacity but the support is further categorized into priority and VIP support.
Pros and Cons:
+ Help Center that answers a lot of questions.
– Missing option to chat for the basic plan.