Create interactive quizzes that generate leads & sell products

Harness the power of quizzes to grow your email list, segment your leads, and recommend products to increase sales.
Divided into three plans with a 14-day free trial each.
Lite: $39 per month
Growth: $89 per month
Pro: $209 per month
Furthermore, they offer more paid services to help you build a quiz adapted to your needs.
Starting one of the plans I need to confirm my email immediately and fill in my card information first.
Pros and Cons:
– Cannot start right away: Need to confirm your Email and leave card information first.
– Limited amount of quizzes to create and publish.
– Limited amount of leads.
2. Ease of use
Once you fill in all the information, and either skip or took part in a questionnaire they ask you, the starting page is very well organized.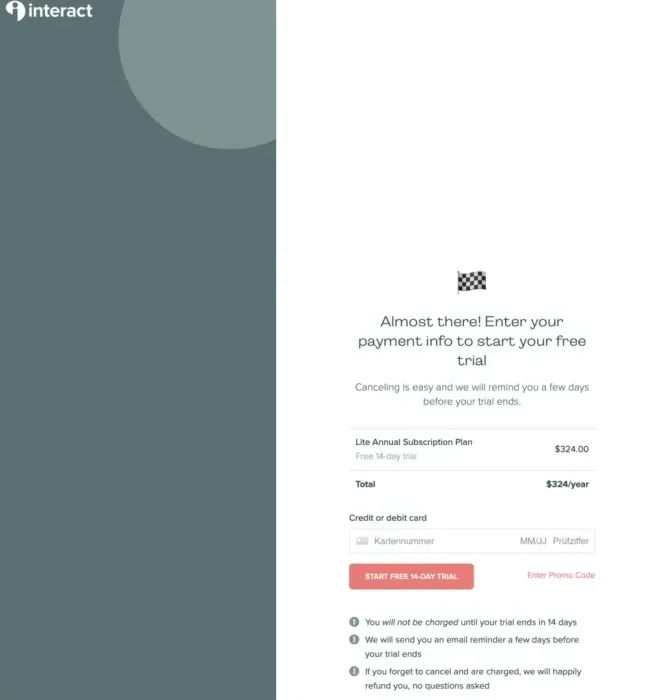 Pros and Cons:
+ Many templates, which are divided into different categories.
+ Starting from scratch allows you to create an assessment, personality test, or a scored quiz.
+ Easy to get started and tips throughout which you can skip, read, or fast forward.
+ The layout of the page is easy to follow.
+ AI builder helps you create a quiz.
– I requested an AI quiz on a specific topic but never heard back from them
– I don't see why they offered three different options starting from scratch since they all start the same way.
– Lots of information on their website but not easy to find.
– Contrary to other quiz makers, such as Riddle, the AI builder takes up to one business day to create a quiz.
3. Customization options
They offer users a wide range of customization options, including pre-designed templates, custom branding, different question types, and more.
Depending on the pricing tiers there are different limitations to the options.
Pros and Cons:
+ Possible to change the colors of the background, buttons, bars, and answer options
+ Upload pictures from Unsplash and GIPHY.
+ Customize the text and format of questions.
+ Choose from a variety of question types, such as multiple choice, true/false, or open-ended questions.
– Cannot add Videos.
– Custom CSS only on very high levels.
– Limitations of customizing templates, and styling options.
4. Privacy
Reading through their website they promote GDPR compliance.
Checking the embed code on a quiz I created, allowed me to test that.
Pros and Cons:
+ They don't load trackers such as for example Facebook Pixels.
– Not GDPR compliant even though they claim to be.
– Hosting on an Amazon server in the US.
– Fonts and writings used are from Adobe Typekit (use.typekit.net)
– 5 Cookies from an external tracker: segment.io without informing the user about it.
– Pictures aren't hosted on their own servers but directly from Unspleash a US service, which saves cookies as well.
5. Support
They provide different ways to offer support and help while creating a quiz. Such as a knowledge base to answer common questions, email support, live chat, and phone support depending on your chosen plan.
Pros and Cons:
+ Even though there is no reply right away you're redirected to potentially helpful links.
– Chat doesn't reply right away, it only says "back later today"
– I never received a response.
– Limited phone support, you must need to fill out a form to schedule a call.