You can choose between Team Plan, Individual Plans, and Enterprise. Each has different pricing the ones listed below are referring to the Individual Plans:
Basic: for free
Advantage Annual: €36 per month.
Standard Monthly: €39 per month.
Premier Annual: €99 per month.
Enterprise Plan: contact for pricing.
Pros and Cons:
+ Offer a free plan.
– Limitations depending on your plan.
– Yearly limitation on responses collected.
– Expensive for large companies.
2. Ease of use
After you fill in your email address you can instantly either start a survey from scratch or use one of the templates.
During my research, they have updated their homepage to a more appealing format.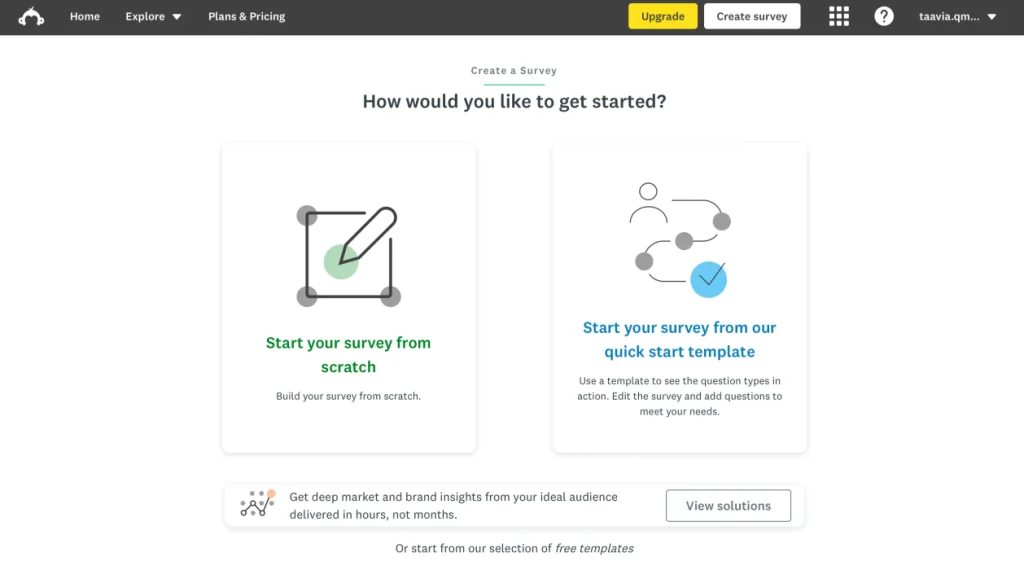 Pros and Cons:
+ Offer a wide range of questions to add to your quiz.
+ Don't need much technical expertise to create your first quiz.
+ Themes to choose from.
– At first sight not very intuitive.
– Templates are just arranged with empty question fields.
– Technical issues loading the page.
– Layout isn't inviting, pretty old school. As established earlier they are improving that.
3. Customization options
On the paid plans they allow users to customize their design, including changing fonts, and color schemes, creating custom themes, and adding logos.
Pros and Cons:
+ Easy to change fonts and colors.
+ 58 languages to select from.
+ Themes are intuitive to change and customize.
– Cannot fully brand the survey because the Survey Monkey logo remains.
– Limited question layout.
– Using the basic free version I encountered many limitations: not able to insert images from a library, online uploading them from my own.
4. Privacy
Like the others, they also do take privacy and data protection seriously and inform the users about it on their website.
They don't really commit to GDPR compliance but do explain what they do to ensure data protection.
Pros and Cons:
+ No cookies.
– Not GDPR-compliant.
– Hosting on an Amazon server.
– Usage of Trackers such as GoogleFonts, Jquery, and signal.fx
5. Support
They offer a basic help page arranged with different topics and connected to other helpful pages regarding the subject.
Pros and Cons:
+ Well-organized help pages.
+ Email support in English and German.
– No chat option.
– Phone support only in the highest pricing tier.