Founded in 2014, the Qzzr quiz maker was launched by Bucky Flowers and Owen Fuller.
As their name indicates, their team is primarily focused around supporting quizzes as the main content type they offer on Qzzr.com. Just to confuse things a bit, Qzzr used to have a range of other content tools (such as lists and polls), but these were moved to their sister site Boombox.com.
Boombox.com now displays the message that "Boombox is now Qzzr.com". Things have come full circle and all their tools are now re-merged under the Qzzr brand again.

Your Qzzr quizzes can be deleted
We'd be remiss if we did not mention a rather abrupt change in Qzzr policy.
Qzzr made a big splash when they launched – offering a free version of their tools. This made Qzzr the ideal choice for the casual quiz creator, but as of September, 2017, they decided to abruptly change this policy.
Unfortunately for their users, they didn't just discontinuing the free service, they also replaced all their previously created free quizzes with an ad. This forced quiz creators to either start paying or go through all their content to delete all of their Qzzr-powered quizzes.
As you can see, their quiz community was not pleased.
Qzzr – our quiz maker review
Unfortunately, we can't recommend Qzzr at all.
They had a brilliant launch in 2014 – putting quiz marketing on the map for businesses. With millions in venture funding, and some of the top names in the publishing world, they were on a rocket ship trajectory.
Fast forward to 2020.
They now seem like they're just a ghost company – trying to collect subscriptions, while putting in no development resources:
We tried to sign up for a free trial – and their payment software wouldn't work.
No support chat online when browsing the site as a new user – unlike their competitors TryInteract and Riddle.
Looking at their online reviews – they're mostly from 2018, and seem to echo our bottom line review of 'good for the basics, bad for customization'.
That was two years ago – it sounds like there has been zero product growth or development since then.
With fast-moving legal changes like the EU's GDPR and California's CCPA, we are not confident you'd be legally protected if you collected personal data for lead generation. Our full GDPR review is below, but in a nutshell, we do not think that you can use Qzzr safely if you are concerned about GDPR.
Quiz Maker Review's rating for Qzzr:
Range of quiz formats: ★☆☆☆☆
Customization options: ★★☆☆☆
Lead generation: ★★★☆☆
Data privacy: ★☆☆☆☆
Pricing: ★☆☆☆☆
Overall: ★★☆☆☆
Qzzr pricing
Qzzr's pricing starts at $24.99 a month for their Basic Plan and climbs to $10,000 per month for their Enterprise option.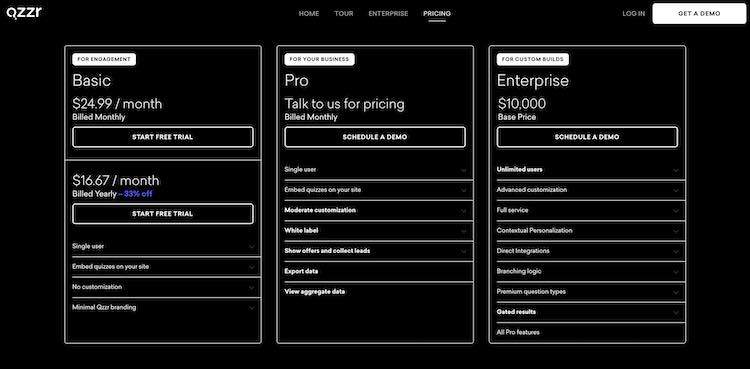 We found it strange that they didn't list their pricing for their middle 'Pro' level plan – you have to ask for a demo.
A bit of sleuthing got this pricing information:
Qzzr: Regarding pricing on the Pro plan, we would love to jump on a call with you and ask you how you are looking to use the tool and explain some of the features / pricing. Are you open to a quick call sometime this week?


QMR: I am based in Europe, these are hard to schedule. I am considering to use them for my site. If you have a rough price range that would help. Mostly we are interested in creating quizzes to generate leads through social media for our online courses


Qzzr: Great! No worries there. Quizzes are great tools for lead gen, and that is a feature that is available on our Pro plan. In short, our Pro plan starts at $99 / month.
If you are interested in having more users, being able to track events with Google Analytics / Facebook Pixel, and have a "quiz mix" feature, we start our Pro Plus plan at $199 / month.
We're not fans of Qzzr's pricing or their free trial option.
First off – that Pro plan is seriously expensive for limited functionality. You only get some preselected colors to match your quiz to your site. Heck, you can't even choose to gate off quiz results after a lead form – that's only on their $10,000 plan.
Secondly – any trial is only for Basic's features so you don't to test all the features, plus it requires you to enter a credit card.
And to make things worse, your quiz content on your site will be replaced by a Qzzr ad at the end of your trial or if you stop paying.
Qzzr types of content
Qzzr focused entirely on quizzes – and offers these types:
Checklist quiz
Graded quiz
Outcome quiz
Qzzr – the good:
Easy to use for quizzes
Simple interface
Lead generation possible
Qzzr – the bad:
No inexpensive or free pricing option
Only basic customization on Basic and even Pro ($99/$199) plans
Most good features are only in the $10,000 plan
Very limited content types – Qzzr only offers quizzes, with no polls, surveys, etc.
If you stop paying, your content is lost and replaced by Qzzr ads on your site.
Content types
Right – so let's cover Qzzr's three basic content types for quiz creation:
Checklist quiz
Graded quiz
Outcome quiz
Checklist quiz
The checklist quiz is the content type that took us the longest to grasp. To be honest, we still do not see much use for it.
How it works:
You can create a list of items and the outcome that gets shown depends on how many items the user selects.
So, imagine you run a checklist quiz "How New Yorker are you?". You list five items for the question – with all the possible transport types from the Big Apple.

Yellow Cab
Subway
Ferry
Uber
Walking

You'd then create outcomes based on how each person answers.
Each user then picks the all the different ways to get around the city – and receive an outcome.

For example, one could be for 80% to 100% and name it "Very New York!".
Essentially, anyone who selects at least 4 out of 5 of these list items get this result. All the others get the result "Not Very New Yorker".
It's an interesting concept – personally, we don't see a lot of use for this type of quiz, but it's something different to have in your quiz arsenal.
Graded quiz
This is the bread and butter quiz type of any decent quiz maker tool. Quiz takers are scored based on how many questions they answered correctly.
Strangely, in Qzzr, we could not find a way to alter or style the results (ex. Let's say you wanted 3 result types like this: 0-50% = result 1, 51-80% = result 2, 81%+ = result 3).
They seem to show up automatically based on how many correct answers you got.
(However, this may be due to the fact that we were on a discontinued free account and don't want to pay to further test it out. We were disappointed – unlike most quiz makers with a completely free demo, their 'free trial' costs $24.99 for a 14 days trial:)
The good news? Their graded quiz offers all the key features you will need to make a decent online quiz.
Single choice answers
Multiple choice answers
True/false answers – really just a pre-filled variant of single choice answers
Use images or text for the answer options
Optional explanation for the quiz taker after answering.

One limitation – there's only one explanation option, no matter if the question was answered correctly or incorrectly. (The down side? Even if you knew the answer, you are still shown the explanation.)
We noticed there is also no free text entry by the quiz taker – this is a more and more popular feature request lately.
Qzzr has done a great job with their quiz interface – it's clean, simple and easy to use.
There are not many customization options available, which make the creation process fast and straightforward for simple pop quizzes.
However, for intermediate and advanced quiz makers, you will miss some features to customize the quiz experience for your audience.
Outcome quiz
An outcome quiz is what most quiz builders would call a "personality test".
In these quizzes, there are no right or wrong answers. Instead, each answer gets associated with a result – and each user gets the result with the most associations at the end of the test.
In Qzzr, you create the outcomes (or results) first, which makes sense when building a personality test. Then, when you create answer options, you map these to one or more outcomes and assign points from 1 to 5. The more points you assign, the stronger this answer option is associated with the selected outcome.
Qzzr has a very neat feature, which lets you completely negate an outcome. Think of it like a 'deal breaker' option – so you can define that a certain outcome will never show if a particular answer option is selected.
A good use case would be a question like "Are you pregnant?" for a medical test. Anyone who selects this can be automatically prevented from seeing any outcomes that give advice that is clearly unfit for pregnant women.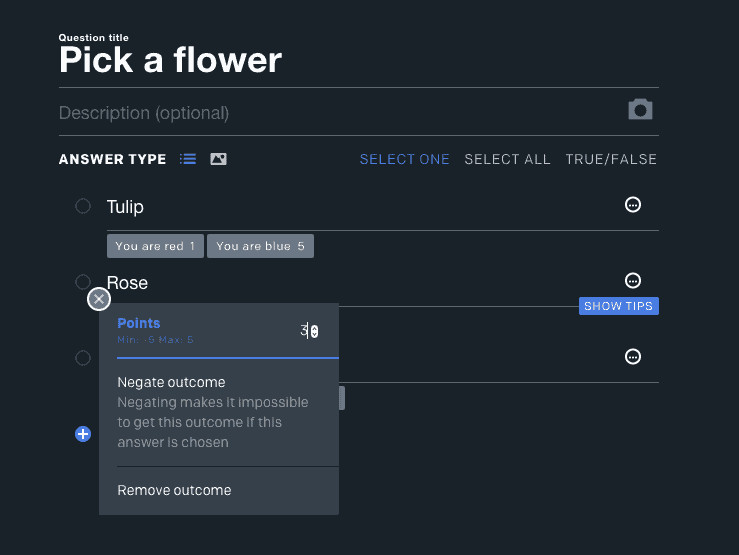 The user interface is very similar to the other Qzzr quiz types. Creation is fast and simple with an easy to understand association mechanism. We really like the "negate outcome" option – a clear plus in Qzzr's favor.
Qzzr's look and feel
For quizzes – looks matter.
How a quiz looks on your site's page is as important as the questions you ask. Think of it as the cover of a book. It need to attract your audience's attention.
Bottom line? An ugly quiz won't entice your audience to click click or finish your quiz.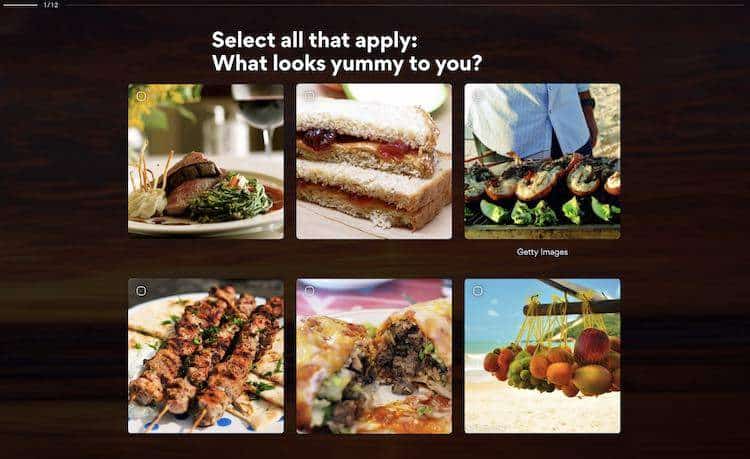 Quiz templates
Qzzr has a nice default layout – but without extensive options to customize it for your needs.
In their Basic and Pro versions, you can only choose from pre-selected colors. You can't add images or choose hex colors to match your site.
If you want to change fonts, background colors or do anything a bit more fancy, you will need to upgrade to their $10,000/month Enterprise plan.
Qzzr: media options
Sure, it's a cliche but in quizzes, pictures are worth a thousand words. Qzzr knows this – and allows you to upload your own images or use stock photos from Pixabay.
(Pixabay is a collection of royalty free images that you can use for any purpose – but you will need to show a small attribution below the image. But it's a great image pool for most use cases.)
Besides that, Qzzr has no other media types available. For example, there is no way to search or add animated GIFs, YouTube videos, images from your Facebook account or Instagram.
All in all, the image choices are very limited. Unless Pixabay solves your image needs, you will need to have an image collection ready on your local hard drive before you dive into quiz making.
Qzzr quiz template
It used to look like this when we had a trial account – but is now a Qzzr ad:
Qzzr – no longer free
Since we published this quiz review, Qzzr stopped their free accounts.
We get it – running a quiz platform is very expensive (you need to host all the images and quizzes often get tens of millions of views).
But we're not big fans about how they went about the change with their customers. They replaced all the content which their customers had embedded on their websites with message saying "content no longer available".
As the quiz owner, if you click on that link, you will be told:
We'll give you the short story first. If your quiz isn't available right now, it means you created it with a Basic (i.e. free) subscription. We are eliminating the Basic plan, and if you want to keep using Qzzr, you will need to do so on a paid Qzzr subscription.

As a thank you for being with us from the beginning, we have prepared a special plan at a discounted rate should you choose to stay. All you have to do is take this quiz to get your custom offer.
In our humble opinion, they are holding their users ransom.
Removing access to their tools for non-paying users so that they cannot change stuff, get leads, or access stats is fine.
But replacing content embedded on people's websites is simply not OK.
Sure, they gave their customers a few weeks' notice in advance, but let's be honest, that notice would end up in the spam folder 99% of the time. If you run even a modestly large website or blog, you will not remember all the places where you embedded a quiz.
So now your site carries lots of black holes and marketing messages for Qzzr. I wonder if they will apply the same tactic down the road if they decide to increase their pricing. You either tag along or all your content is gone and gets replaced.
This highlights a key factor about Qzzr – your quizzes aren't forever yours. If you ever stop paying – all your content will be gone.
By contrast, we were impressed with Riddle – they have a 'your quizzes – forever' policy.
Any quizzes you create will always stay live for your audience – so no ads or holes in your site. Sure, the lead generation will be deactivated and they will show Riddle's branding – but we figure that's a fair trade-off.
Qzzr: data privacy and GDPR-compliance
The EU's GDPR is a serious, serious matter for online businesses – no matter where you are located in the world. Hundreds of global businesses are being hit for violations, with combined fines over 470 million euros every month.
We are relying on the information provided at the Qzzr GDPR page here.
As the articles mention their privacy policy, we also reviewed it to check for some key GDPR components.
Qzzr points out – rightfully so – that the quiz creator is responsible for handling all personal identifiable information collected from a quiz. In our point of view, this is the correct setup.
However, to comply with the GDPR, they do however need to provide a few things:
a) Operationally, the servers processing all lead data need to be in the EU.
If they are based in the U.S., the operator needs to comply with the Privacy Act to ensure that data stored is treated in line with GDRP regulations.
We could not find any indication of compliance with the Privacy Act on their site, but they do mention that all data is stored and processed in the U.S.
This is especially problematic as Qzzr collects the user's IP address – classified as personal information by the GDPR.
Here's the paragraph from their privacy policy:
Device and application data: on behalf of Qzzr Users, Qzzr collects data from the device and application the Respondent uses to access our services, such as, among other, the IP address, browser type and operating system. We may also infer the geographic location based on the Respondent IP address.

qzzr.com/privacy-policy 5.2b
Their cookie policy does not state which cookies they are using, but it does mention that they partner with ad networks to track users IP addresses.
Check it out here:
We may partner with third-party ad networks to either display advertising on our Web site or to manage our advertising on other websites. Our ad network partners use cookies and Web beacons to collect non-personally identifiable information about your activities on this and other Web sites to show you targeted advertising based on your interests. We may partner with third-party data providers to match IP addresses with company names and contact names. Our data partners may use cookies and Web beacons for the purpose of matching IP addresses.

qzzr.com/cookie-policy Paragraph 2
Minor good news: When embedding a Qzzr quiz, we could not find any trackers other than a Qzzr cookie.
Embedded Qzzr quizzes blocked by ad blockers and browsers
Be very careful in how you use Qzzr quizzes.
Browser-blocking:
Very secure browsers like Brave completely block Qzzr embeds unless you:
disable the security features (never a good sign)
allow cross-site cookies
permit cross-site fingerprinting
Note: We had no issues in Brave with quiz maker embed codes from TryInteract, Outgrow, or Riddle.
Ad blockers block Qzzr quizzes:
To top it all off, for the 30% of online users who use ad blockers (like the very popular AdBlock), Qzzr quizzes will simply not load. Apparently, ad blockers consider them to be ads.
Ouch.
In summary: Qzzr is not GDPR-compliant. They store IP addresses on servers in the U.S. without complying with Privacy Shield and they also appear to be blocked by common ad blockers.
We cannot recommend you use Qzzr due to privacy concerns – and the resulting legal risks for your business.
Qzzr: overall review
Qzzr is a capable quiz maker – but with grave limitations. Their polished interface and three different quiz types are good for people just getting into using quizzes as a marketing tool.
However, we'd recommend caution.
Qzzr's lack of customization options – combined with limited media choices and a 'nothing is forever' approach to client quizzes – mean that there are many much better quiz makers on the market.
Quiz Maker Review's rating for Qzzr:
Range of quiz formats: ★☆☆☆☆
Customization options: ★★☆☆☆
Lead generation: ★★★☆☆
Data privacy: ★★☆☆☆
Pricing: ★☆☆☆☆
Overall: ★★☆☆☆