Create an awesome quiz in minutes

Quiz Maker is the easiest way to make quizzes FREE
They offer a very basic free plan with quite some limitations to it. Beyond that three paid plans with a 7-day trial each.
Standard: $29 per month
Premium: $49 per month
Platinum: $99 per month
Pros and Cons:
+ Free plan.
+ Start right away.
– All plans are limited in terms of the number of questions asked, responses collected, or AI quizzes built.
– Limited features in the lower pricing tiers.
2. Ease of use
The starting page allows you to start creating a quiz right away which makes it very easy to get started – just enter your title, select a quiz type, pick one of the templates, add questions, and change or customize the theme.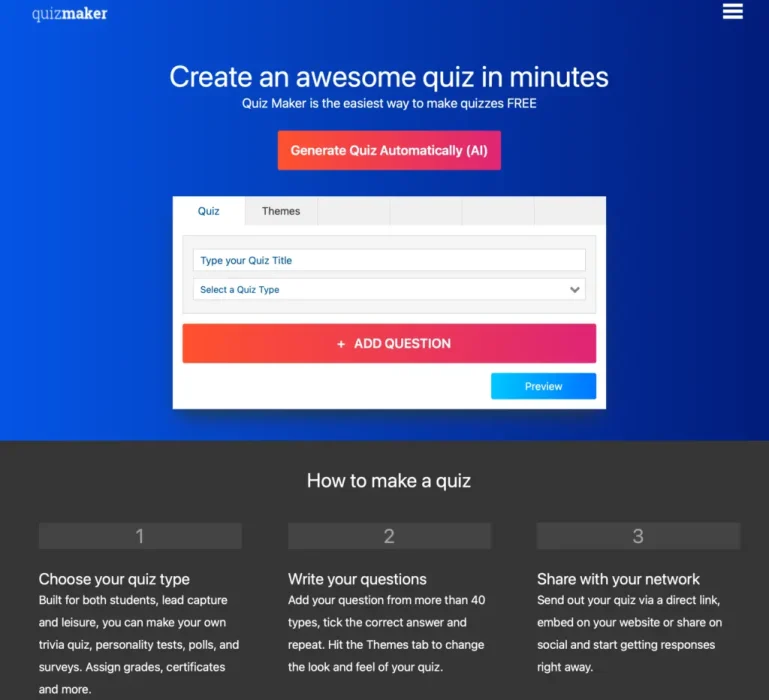 Pros and Cons:
+ Very user-friendly interface.
+ Clear, intuitive structure.
+ Simple quiz creation process.
+ Built-in templates.
+ AI-builder.
– Limited use of the AI-builder, the free option only allows you to create 1 AI quiz per month.
– Technical issues: In the process of creating the quiz it wouldn't let me anymore and I lost the data.
– Within my preview, my entered date of birth wasn't displayed in my results.
– When entering my date of birth, the default start year is 1898, which doesn't make sense.
– In comparison to the others it might be easy to use but doesn't look as good, or professional as the competition.
3. Customization options
They offer a wide range of customization options regarding their theme's color, fonts, and buttons. As well as multiple settings such as timers, languages, progress bars, and randomization.
Pros and Cons:
+ Offer a wide range also in the lower pricing tiers.
+ Combining different question formats is easy.
+ Integrating media such as images, videos, or gifs from their free library or uploading them is intuitive.
+ Multilanguage translations.
– Limited options regarding features and integrations, especially in the lower pricing tiers.
– Some of the customization options don't work the same way for different question types.
– Custom CSS and custom themes only on the higher pricing tiers.
4. Privacy
Based on the information available on their website they are concerned about data protection.
Nonetheless, I reviewed their embed code.
Pros and Cons:
+ Only session cookies.
+ No other than Facebook trackers.

– Not GDPR compliant.
– Generally, the code syntax check shows an error. 
– They are hosting on an Amazon server in the US.
– They load Facebook SDK which is a Facebook tracker tracking the user without informing them.
5. Support
They offer several help pages from how to create a quiz, how to analyze and manage results, about the dashboard and account to FAQs and Plugins.
Pros and Cons:
+ Help pages are useful and answer many questions.
– No chat.
– Priority support only on the higher price tiers.
– Respond within 24hrs.