In this review, I have compared and contrasted 11 popular quiz-maker tools each of which has its own unique features and benefits.
I've explored their strengths and weaknesses to help you choose the best tool for your specific needs. Whether you're looking for advanced customization options, simple and easy-to-use tools, or very importantly looking at specific privacy policies regarding data protection.
I want you to make an informed decision and see for yourself which fits best, nonetheless, I will state my winner and why I think it is the best one.
Winner: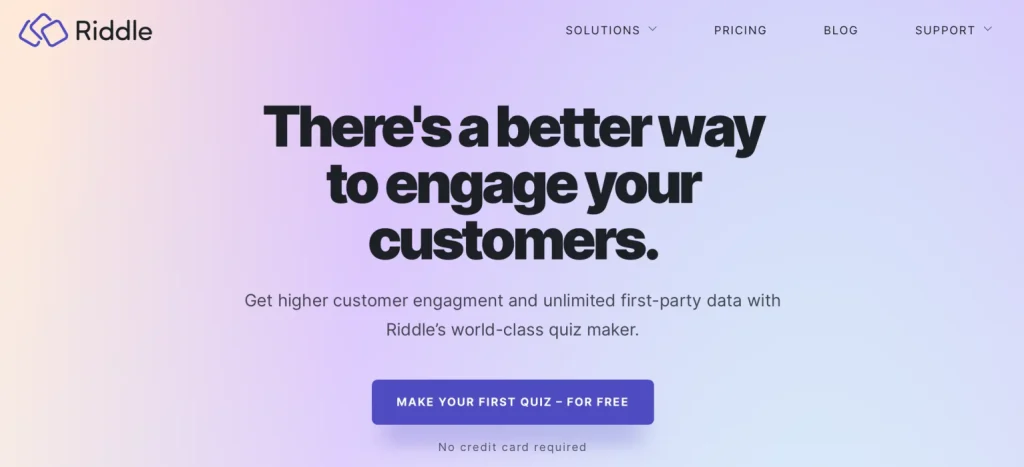 To me, Riddle clearly stood out as the best quiz-maker tool on the market.
It is a comprehensive tool that offers a range of features for creating engaging quizzes, surveys, and polls. Riddle provides you with a wide variety of question types, including multiple-choice, open-ended, and true/false questions, as well as advanced options such as branching logic and personality tests.
Its interface is user-friendly and they are constantly working on improving themselves.
You can customize their quizzes to truly match them to your branding and messaging. If you struggle to do so, the support provided by the CEO, and product developer themselves is efficient, friendly, and very helpful.
In addition to its customization and ease of use, Riddle offers a range of interactive options to engage users and enhance the quiz experience. These options include countdown timers, animated progress bars, and scoring systems that enable users to compete with their friends and colleagues.
Furthermore, Riddle truly prioritizes data protection and security, and is GDPR compliant.
They use SSL encryption and have comprehensive security measures in place to protect user data from unauthorized access or breach – not even they can look into quizzes created or information collected. They also offer options to customize your privacy policies and terms of service.
Putting them all to the thorough test, Riddle is one of the best quiz-maker tools on the market due to its combination of user-friendly design, and customizable features, along with its commitment to data protection and security.
Whether you're looking to create engaging quizzes for your audience, gather valuable data on user behavior, or ensure the security of your users' personal data, they have everything you need.
Good to know:
In addition to the comparison of the quiz maker tools, it's worth noting that they all offer integrations and analyses/ reporting options.
Each quiz maker provides you with mostly the same level of integrations, including Google Analytics, HubSpot, Mailchimp, Zapier, Salesforce, and more.
The options may vary slightly between the quiz maker tools but typically include features such as detailed metrics on quiz performance, user behavior tracking, and progress reports and help you achieve your goals.
By leveraging these features, you can gain valuable insights into your audience's preferences and interests, and make informed decisions to improve your marketing efforts – whether you're intending to drive traffic to your website, generate leads, or educate your audience.
As a user, these options allow you to make data-driven decisions to improve your quizzes and engage better with your audience.
They simply allow you to integrate your quizzes with various marketing and analytics tools to gain a deeper insight into your audience's behavior, as well as track your quiz's impact on your marketing efforts.