Involve.me is a relative newcomer to the quiz maker space – their team has shifted directions a few times in their brief history. Originally known as Brandquiz – their initial pitch was delivering customizable quizzes and audience engagement for agencies and brands, hence the name. They rebranded in April, 2019 to Involve.me.
Like their home page says, Involve.me has placed a big emphasis on audience engagement. They have a relatively broad set of eight content types – including a quiz, personality test, survey, and payment form.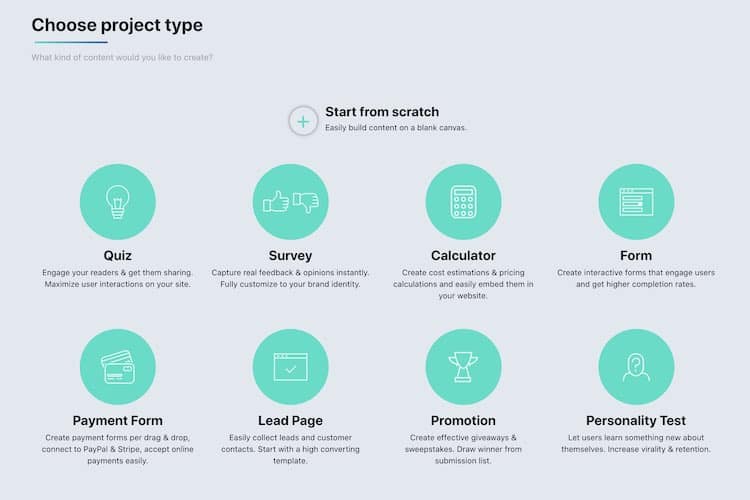 Involve.me is a flexible, if pricey, quiz maker – suitable for intermediate and advanced marketers. We like the 'block' builder user interface – which gives a lot of options to you as the creator when creating your quiz.
However, as a user, their desire for flexibility adds a unnecessary level of complexity and extra effort when creating your quiz. We found ourselves searching for the various options in the project settings, then the account settings, before checking out the individual question level settings.
Brace yourself for a longer lead time and adoption process for your marketing team.
They're solid with lead generation and 12 native data integrations. Collecting text, emails, and the like are fine – but Involve.me lacks some of the additional options we like to see in terms of fields. For example, you can't add drop-downs, radio buttons, time/date picker, and other choices – these are highly useful for helping segment and qualify leads as potential customers.
For an EU-based company, Involve.me is only partially-compliant with the GDPR. This leaves you open for fines up to 4% of annual revenue, or 10 million euros (whichever is larger). Ouch.
We'll cover this in more detail below – but be cautious if you decide to use their service; the legal liability is with you, not the software vendor you select.
Quiz Maker Review's rating for Involve.me:
Range of quiz formats: ★★★★☆
Customization options: ★★★☆☆
Lead generation: ★★★☆☆
Data privacy: ★★☆☆☆
Pricing: ★★★☆☆
Overall: ★★★☆☆
Involve.me quiz types – reviewed
That's enough of an intro overview review. Let's take a deeper look at each of Involve.me's eight content formats:
Quiz
Like any good quiz maker, Involve.me has a quiz unit – so you can ask your audience questions with right/wrong answers. There is no limit to the number of questions or answers in a quiz – and you can add images, videos, or text.
And we were impressed at the granularity of control in Involve.me's quiz maker – you can set different points values by question AND answers.
One use case we've seen occurs when quiz creators want to reward people even if they guessed incorrectly. You could give partial credit for good – if wrong – answers.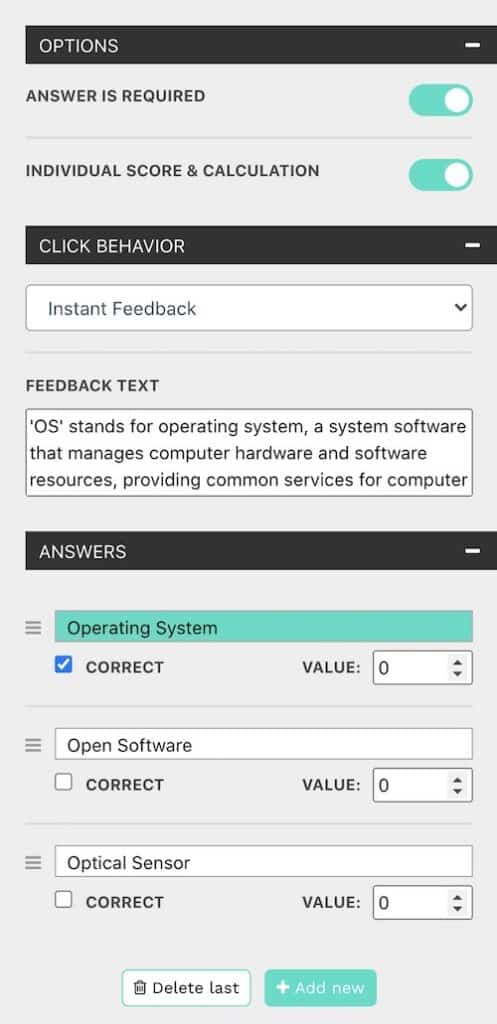 Survey
Involve.me's survey tool is a basic survey tool – designed for collecting feedback and information from an audience. Compared to some other quiz maker tools, Involve.me does not offer a wide range of features – but is good for basic uses cases.
In terms of question types, Involve.me has a good selection of question types – including single, multiple choice, and free text.
We were a little disappointed by the lack of attention spent on this content type by the Involve.me team. You can tell they essentially just copied their quiz module – because (confusingly) they left the 'correct answer' option in all the questions.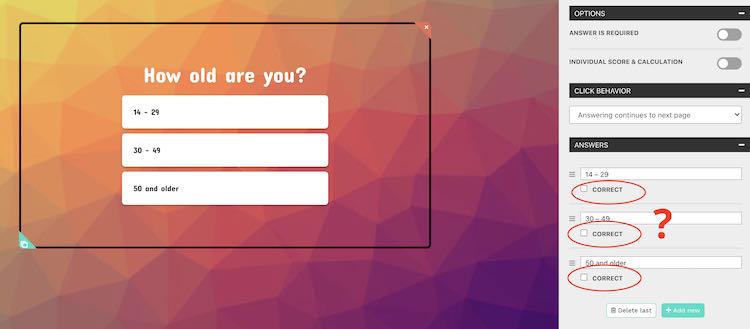 Surveys are all about feedback – there isn't ever a 'right' answer for someone's opinion. They should remove this.
One other weakness of the platform is a lack of media search tools. With so many high quality image, icon, GIF, and other tools out there, Involve.me requires you to upload any images or icons for your survey. That's time-consuming – and distracting.
To be fair, you can use their existing templates – which has button, picture, or number icons included. But that's only at the template level – you can't start from scratch and access these images.
It's time-consuming to have to manually add things for each questions. There should be pre-built styles – ie. 5 stars, thumbs up/down – that the user could quickly select and apply.
GDPR and privacy review
Involve.me is an Austrian company. Being based in the EU, they have taken some decent steps towards being compliant with these and other global data privacy regulations.
TL;DR? Involve.me is a GDPR-compliant quiz maker, as long as you do not use their implementation of FB pixels to track your audience.
Trackers:
We didn't see any trackers from involve.me of any kind embedded in our sample quiz – so both your data and your quiz takers' personal information will be safe.
No DPA agreement:
One of the GDPR's more fun requirements – you need to sign a data processing agreement (DPA) with Involve.me as they will hold your customers data on your behalf.
Unfortunately, we wanted to review their DPA, but their DPA page is empty: https://www.involve.me/dpa/
We will keep an eye out for a valid DPA and review it should they upload one in the future.
Amazon cloud servers:
Involve.me runs their quiz maker using the Amazon Cloud infrastructure, using AWS Servers in the EU. This might be the biggest wrinkle in their setup as the AWS EU infrastructure is not GDPR-compliant anymore after the Privacy Shield Agreement between the U.S. and Europe has been cancelled in July 2020.
Facebook pixel – no consent:
We did find one really, really big red flag for the GDPR.
When you add your Facebook Pixel ID to your quiz, the pixel fires immediately, without getting the user's consent. Unfortunately, there is no way to ask for consent when setting up the pixel tracking in your quiz.
Facebook pixels are crucial if you are serious about quiz marketing. It lets you do all sorts of things including build a custom audience of like-minded leads on Facebook.
Unfortunately, if you want to stick to the GDPR rules of consent, involve.me makes this impossible. We hope they fix this ASAP.
Involve.me – platform features
Okay – so let's go into greater detail about Involve.me's quiz maker and their tools, from the quiz creator's perspective.
Read on – we'll tackle each of these secctions one by one:
User interface and ease of use
Styling
Media options
Data connections
Sharing
Publishing
Statistics
User interface and ease of use
As we mentioned above – Involve.me has put a priority in having a highly flexible quiz maker, with lots (and lots!) of features.
That's the good news.
The bad? There's an extra level of complexity for even simple operations. Plus, Involve.me doesn't support a draft quiz' option – where you can edit a live quiz and push change live when you're ready.
Instead, once you publish your quiz, any changes or edit instantly go live. That's a seriously bad idea – the best quizzes are constant edited and optimized post-launch. But Involve.me doesn't give you the chance to preview and check things out – all your edits are pushed immediately live. Ouch.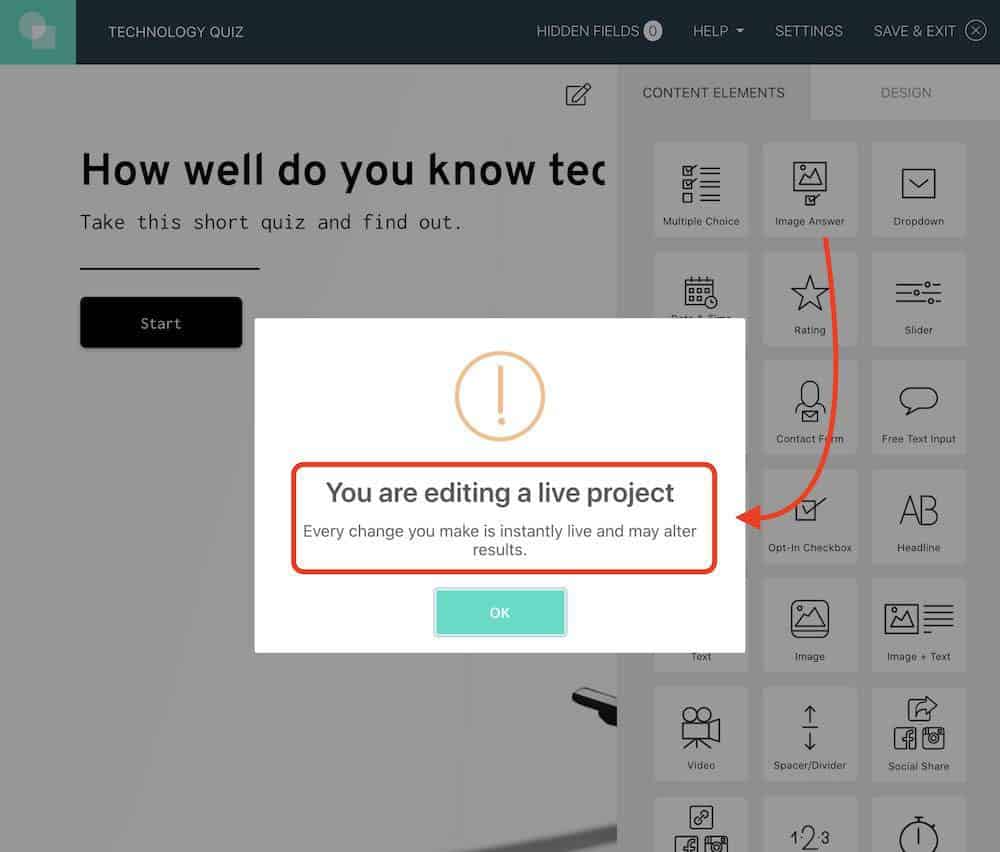 Right – their quiz maker interface is also pretty confusing.
We like how they give you a wide range of content blocks to choose from – and each overall card is blank slate. You have a lot of freedom to mix and match quiz questions, images, and lead generation elements.
However, it took us awhile to figure out the difference between the 'design' and 'content elements' sections – and then the semi-hidden 'General project design' (with the red arrow).
With involve.me, you can be pretty sure they'll have the option you need in their quiz maker – it's just going to take awhile to find it.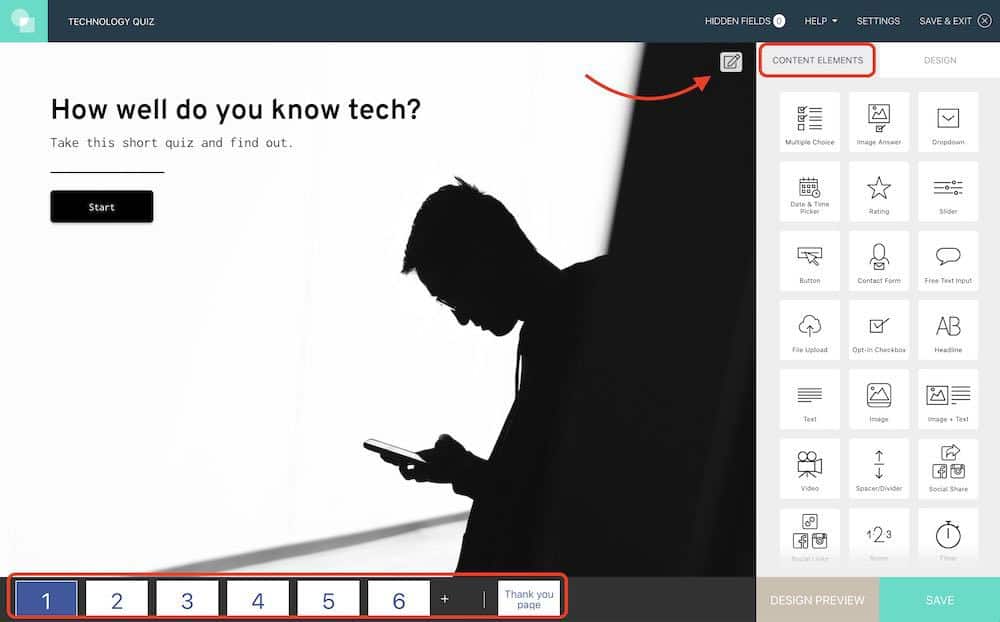 Styling
Involve.me is a pretty slick quiz maker – with a nice professional look and feel.
As a quiz creator, you're given a wide range of templates and style templates to choose from – a great starting point for new users.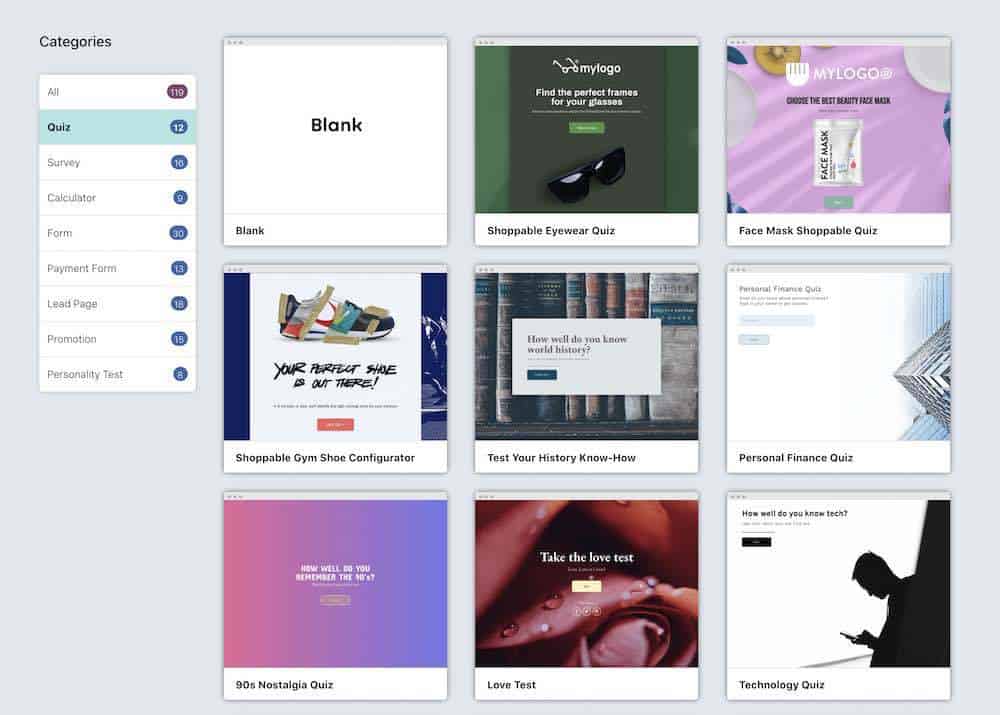 We were also big fans of Involve.me's layout options – from transparency to text colors and uploading your own custom fonts, they've got you covered. You can tell them come from an agency background; you have a great deal of flexibility in making your quiz match your site's branding and as well as look and feel.
adfadf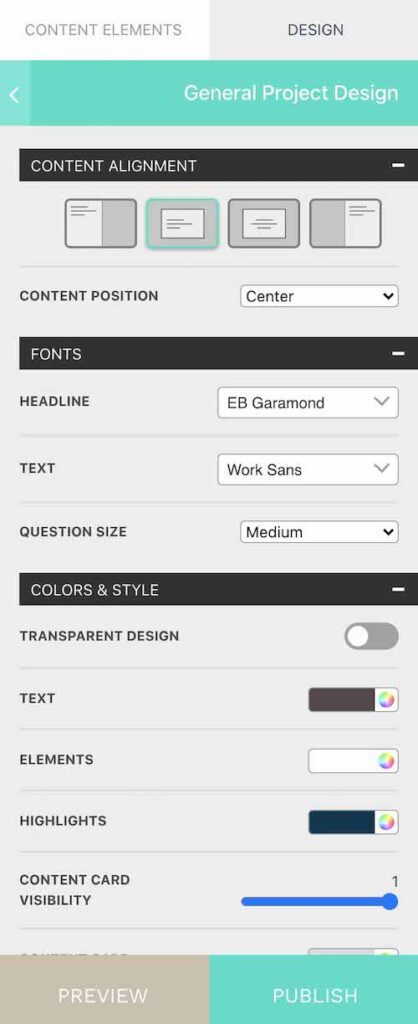 Publish
changes to live quiz are instantly live. There is no publish process or review capability, making it very dangerous to edit projects after they have gone live.