No-Code Builder For Interactive Funnels

Create landing pages, widgets and pop-ups for the entire customer journey per drag & drop with our no-code funnel builder by using customizable form, survey, calculator and quiz elements.
They offer a free plan with basic functions and limited usage as well as paid plans including a 14-day free trial.
Starter: €20 per month
Professional: €65 per month
Business: €165 per month
Beyond these three plans, there is the option to contact them and arrange a solution regarding the submission limitations.
Pros and Cons:
+ Cancel anytime.
– Each plan has limitations on monthly submissions, as well as email invites.
– Once the monthly limit is reached all the projects are unavailable to the public.
– Upgrading my plan to try out my free 14-day trial took me several cards to try since they want me to deposit card details, instead of allowing me to try it out first.
– After upgrading I had to answer several questions again before allowing me to start.
2. Ease of use
Quite easy to start the free trial – just enter your email, answer four questions, and get started.
I am personally not a fan of the onboarding process and their gathering of information.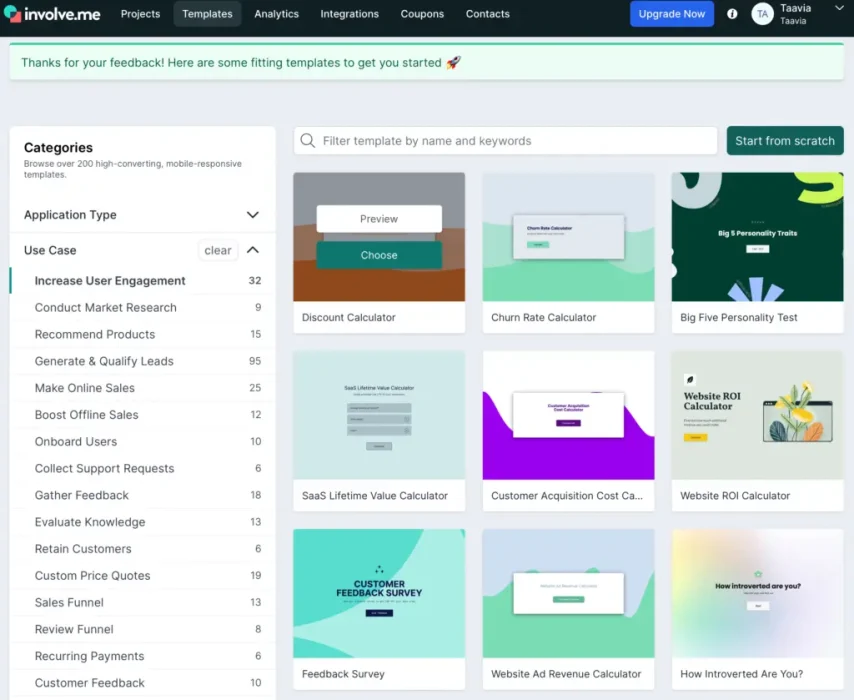 Pros and Cons:
+ Leads you through a 9-minute tour with 5 topics to get you started
+ If wanted little windows opening showing you where essential functions.
+ Many templates regarding multiple topics.
+ User-friendly interface: drag and drop function is very easy to use.
– Limitations regarding design options.
– No branching logic.
– Beyond the free plan the advanced features require a bit more time to learn and integrate them.
3. Customization options
Generally, they offer a more limited range of customization options, especially taking a closer look at design options. They seem to focus a bit more on their templates.
Changes in color, fonts, etc. are easy to make and quite intuitive.
Pros and Cons:
+ Possible changes are easy to find.
+ Changing fonts, colors, and backgrounds is intuitive.
– Custom CSS only in Pro and Business plans.
– No technical support for custom CSS codes added to a project.
– Adding images from a free stock library wasn't straightforward.
– No free stock library for images.
4. Privacy
They announce to be GDPR-compliant.
I've checked their embed code and found a few facts debilitating to that statement.
Pros and Cons:
+ No usage of trackers.
+ No cookies embedded.
– Using Google fonts is not GDPR compliant: it is a third-party service as such I cannot control which data they collect
– They're using Amazon Web Servers.
– Cloudfront.net also uncontrollably stores data to provide faster content delivery.
5. Support
Each plan gets a different kind of support – the Free option offers limited support, the Starter a basic one, and Professional, and Business priority support.
Pros and Cons:
+ Help pages and videos are well done.
+ Guide throughout the process of creating your first quiz allows you to get to know it better.
– Different support levels.