The Power of Engagement

Gen-Z-Fy your content with interactive social experiences that boost user engagement.
On their website, I couldn`t find any information regarding their prices. In order to be informed about the prices I was asked to fill out my contact detail – after several days I haven't received a reply.
Signing up for free was easy but filling out questions about my company and why I want to utilize Apester was requested.
Pros and Cons:
+ 14-day free trial.
+ Easy sign-up.
– No pricing tiers.
– Can only book a demo.
– Even upgrading my free trial wasn't possible without booking a demo first.
2. Ease of use
You get started with various very well-organized and categorized templates.
Starting from scratch gives you the option to create polls, rich content, or quizzes & tests.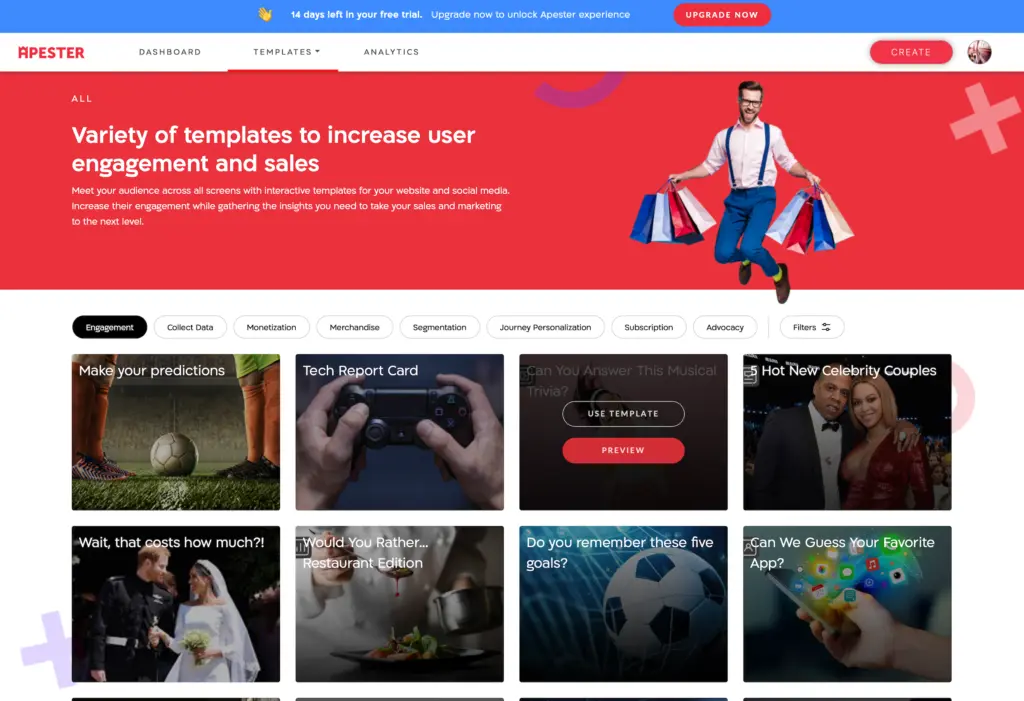 Pros and Cons:
+ Many templates to choose from and customize.
+ User-friendly interface.
+ Intuitive to use and adapt to needs.
+ Integration of direct feedback after a question.
+ Settings are easy to change.
– Templates didn't work.
3. Customization options
They provide a wide range of customization options that enable you to create personalized interactive content. From customizing fonts, colors, and logos to adding multimedia content.
Pros and Cons:
+ The customization options are easy to find and implement.
+ Fonts and colors are quickly changed.
+ Adding media from a stock library or uploading them is easily done.
+ Arranging the order new is easily done with drag and drop.
– Different logic couldn't be added to pre-chosen quiz types.
– More complex customization such as custom CSS isn't as easily possible.
– In comparison to the others I was lacking more flexibility.
– Have to hit the update button to save changes.
4. Privacy
They seem to take privacy compliance seriously and offer different features to ensure GDPR compliance. Such as consent management features, data protection measures, and user rights. Apester also ensures that third-party partners comply with privacy regulations.
In order to validate that I put their embed code to the test.
Pros and Cons:
+ No Trackers.
+ No Cookies.
+ Users' privacy is well protected.
– Not GDPR compliant.
– Hosting on an Amazon server in the US
– Fonts from google.com
5. Support
On their website, they offer various categories with FAQs, tips, case studies, and news.
It's well-organized and helpful.
Pros and Cons:
+ FAQs are nicely displayed, and easy to follow.
+ Offer Webinars on certain topics.
+ Contact via Email and ticket system.
– Very difficult to get in touch with someone.
– Not responsive.
– No chat or live support.